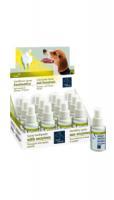 Dental Spray with Enzymes
DENTAL SPRAY WITH ENZYMES
An all natural dental spray made with propolis and oils of sage, lavender, lemon, tea tree and grapefruit seeds, works wonders on your pet's mouth. These essential enzymes actually protect the teeth, prevent plaque and control bad breath miraculously. The all natural Titanium Dioxide also helps to whiten the teeth.
50ml (1.7oz)
Detailed Spec Sheet & How to Use
*********************
ORME Naturali
Italian Spa Skin & Teeth Care
Orme Naturali's Care Line was developed for the well-being of your pet. It helps to heal, protect, balance and promote one's pet's well-being.

ORME's Skin Care Line consists of 100% natural prevention and protection products. The Care Family is enriched with special elements proven for their dermatological properties, to include: Lavender and Rosemary Oils, Eucalyptus, Grapefruit seed extract, Nettles, Sage and Thyme amongst other holistic but powerful ingredients.
---
We Also Recommend